The kindest thing I can do for you is help you get out of misery and live the life you want. You will experience an action-oriented coaching style that will not allow you to sit where you are. As a coach, I am committed to helping you get the life you want. My promise to you is to not to let you stay adrift in the morass of a problematic life. The approaches I use for coaching, life transitions and family court are sound. They have been well-researched and are proven effective coaching strategies with teens and adults, couples, groups and individuals and families in the forensic setting. You will receive, as applicable, a variety of approaches to help you get the life you were meant to live, as follows:
Motivated Adults
At Verdant Hope you will learn how to leverage your individual gifts and talents to unlock the life you love living. I quickly learn what is unique about you, your strengths and struggles and organize that data in a coherent manner to identify what is blocking your potential and provide practical steps to unlock your potential.
Driven Attorneys
Attorneys looking for the road to their best life both inside and outside the office find a brass tack understanding at Verdant Hope. As an attorney you are accustomed to working hard and getting results. You will find that your hard work in coaching will pay off! I know attorneys face demanding lives and strive for excellence in relationships as well as work. I provide a rare balance of supportive, positive environment while maintaining a commitment to your growth and success through application of proven strategies.
High-Achieving Teens
Whether it is athletics, academics or the arts, high-achieving teens face distinct challenges and pressures.  I have extensive experience with teens and have helped many not just survive but thrive in the midst of high-demand environments. The teens I work with learn practical skills they can use immediately in navigating internal stress, relationships, and high standards.
Results Seeking Groups
Groups have unique dynamics that require a facile and engaging presenter. As a former teacher and current presenter I have honed the skills of pacing and content to keep interest high while tuning into the needs of individuals present. I provide material at just the right level for your group to gain new skills without burying them in difficult-to-apply theory. Take your work environment to the next level with tailored skills packages for your personnel.
Successful Couples/Families
Communication, clear goals, shared positive experiences and affection are critical elements for a connected relationship. I bring cutting edge information to you that you can apply immediately in your most vital relationships to create the growth and intimacy you long for. I offer sessions for families, couples, and individuals in the relationship to identify the sticking points and help you repair and forge strong ties.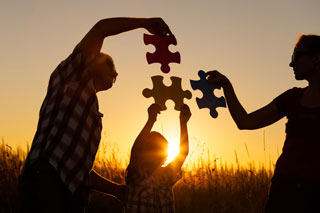 Whole After Family Court
Individuals and families involved in court proceedings often have an especially difficult path. I have many years of experience working for the court conducting evaluations and coordinating reunification efforts. Many reunification experts utilize me to coach family members as they navigate the painful and confusing waters of divorce and separation. I will combine my vantage point of the current literature and years of experience with your commitment to your children's well-being to create the most beneficial outcome for all involved.