You are not broken.  Let's unlock your gifts!
– Dr. Kolette Butler, JD, PsyD
At Verdant Hope, Dr. Kolette Butler brings her unique background and skill set as a former teacher, attorney and psychologist to this dynamic coaching practice. Adults and teens who feel overwhelmed, frustrated and baffled by efforts to create meaningful relationships, careers/academics, or family life will find relief and solutions here. Individuals and families transitioning through the courts will receive professional and competent coaching as they navigate the stormy waters of litigation and family separation. Young adults experiencing transitions in family, school and relationships will find a safe space to explore decisions about their future and easy-to-apply skills to tap into their strengths to solve problems as they arise.
Choose from one of three service arenas: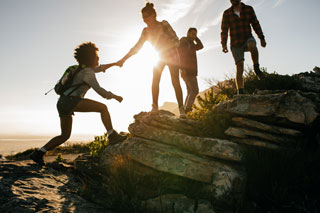 Coaching
Coaching identifies and builds on your inherent strengths and abilities. The things that make you uniquely you. Several people have come to me expressing traits they have that have caused problems in work or relationships. They view these traits as liabilities. In our work together we are able to maximize your traits and change how you work with them to make them your greatest assets. This is not therapy/psychotherapy and is not meant to replace therapy. Rather, I will show you how the very characteristics you felt have been blocking your way can actually propel you to greater heights. 
Navigating Life Transitions
Whether it is problematic patterns in your relationships, career, academics or general life satisfaction, you will find clear, pragmatic and proven skills here to aide you in creating the life you seek. Together we will identify the obstacles that stand between you and the life you envision. Then we will create a clear and direct path to that life. I am committed to holding your vision and guiding your steps to get there as you apply effective strategies that will make your ideal life a reality. This is action-oriented work and consists of a lot more than just talk!  Be ready to work and really own your life.
Surviving Family Court
Individuals who find themselves in family court often face unexpected hardships and heartaches. As a former attorney and psychologist I am adept at quickly determining the critical factors at play and helping you formulate a plan of action. My goal is to help you meet your goals and stay consistent with your own values as you do so. In our work together you will learn how to stay true to yourself and your values while going through a process that often brings out the worst in people.  Family Court doesn't have to be so difficult.  There are ways through it with more ease.
Meet Dr. Kolette Butler, JD, PsyD
A native Arizonan, I began my journey as a junior high teacher where I enjoyed interacting with teens as they worked through difficult and exciting life changes. From there, I transitioned to the legal field earning a JD at ASU's Sandra Day O'Connor College of Law. After practicing law in Arizona I began a study of psychology where I found the perfect fit for my blend of warmth, relatability and keen analytical perspectives. I earned a doctorate in psychology from Midwestern University, summa cum laude. Today, I am an active member of the Arizona Chapter of the Association of Family and Conciliation Courts, a member of the Arizona Psychological Association's Legislative Committee, and an inactive member of Arizona's State Bar. In my personal time, I also train and supervise teens who take phone calls from other teens in crisis at Teen Lifeline. 
Get In Touch.
Give me a call at 480-322-5720 to talk about
what is going on and together we'll see what is next.